Bitcoin (BTC) Price Prediction: BTC/USD Slumps Again Above $30k, Can Bulls Hold the Current Support?
Bitcoin (BTC) Price Prediction – January 22, 2021
BTC/USD has slumped to the previous low after one week of consolidation between $34,500 and $38,000. On January 21, the bears broke the lower price range as BTC dropped to $30,196. In previous price action on January 4 and 11, the market resumed an upward move as soon as the crypto fell to $30,000 low. It is assumed that BTC will resume upward revisiting the previous highs.
Resistance Levels: $45,000, $46,000, $47,000
Support Levels: $35,000, $34,000, $33,000
Today, Bitcoin fell to $29,317 low as price corrected upward. The crypto has continued to fall because the price is making a series of lower highs and lower lows. If the downtrend makes a lower high, there is a certainty that price must fall. Today, BTC price is making a lower high as the coin faces rejection at the $32,000 high. If the price falls and breaks the current support at $29,317, the downtrend will resume. However, if the $30,000 support fails to hold, the downtrend will extend to $22,900 or $24,000 low. Usually, in an uptrend, the bulls buy the dips as the crypto resumes the upside momentum. However, in the present dispensation, the bulls have to defend the $30,000 support level.
Bitcoin Is Becoming a Cyclical Asset, Not a Hedge, by JP Morgan
JPMorgan strategists John Normand and Federico Manicardi have disagreed with their colleagues' view that Bitcoin is becoming digital gold. They believe that anyone betting on Bitcoin as a portfolio diversifier is putting themselves at risk. The strategists have indicated that Bitcoin is the "least reliable hedge during periods of acute market stress." They claimed that cyclical assets refer to stocks that follow the trend in the overall economy. These companies produce goods and services that are in demand when the economy is performing well.
However, when these items are not in demand the economy will be weakened. The strategists recognized that the crypto currency may be appropriate for investors worried about policy shocks and the systemic devaluation of fiat currencies. They concluded and said: "The adoption of bitcoin by institutional investors has only begun, while for gold, its adoption by institutional investors is very advanced. If this medium to longer-term thesis proves right, the price of gold would suffer from a structural headwind over the coming years."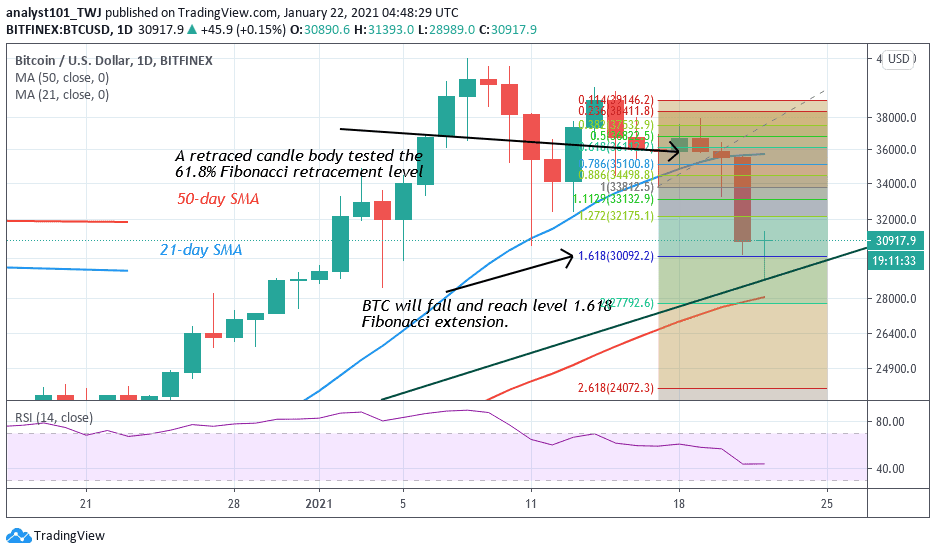 Nevertheless, Bitcoin is presently in a downward correction as the crypto falls to the $30,000 support. The bottom line is whether the support is going to hold or not. On January 18 downtrend; a retraced candle body tested the 61.8% Fibonacci retracement level. The retracement level suggests that BTC price will fall to level 1.618 Fibonacci extensions or the low of $30,092.20.